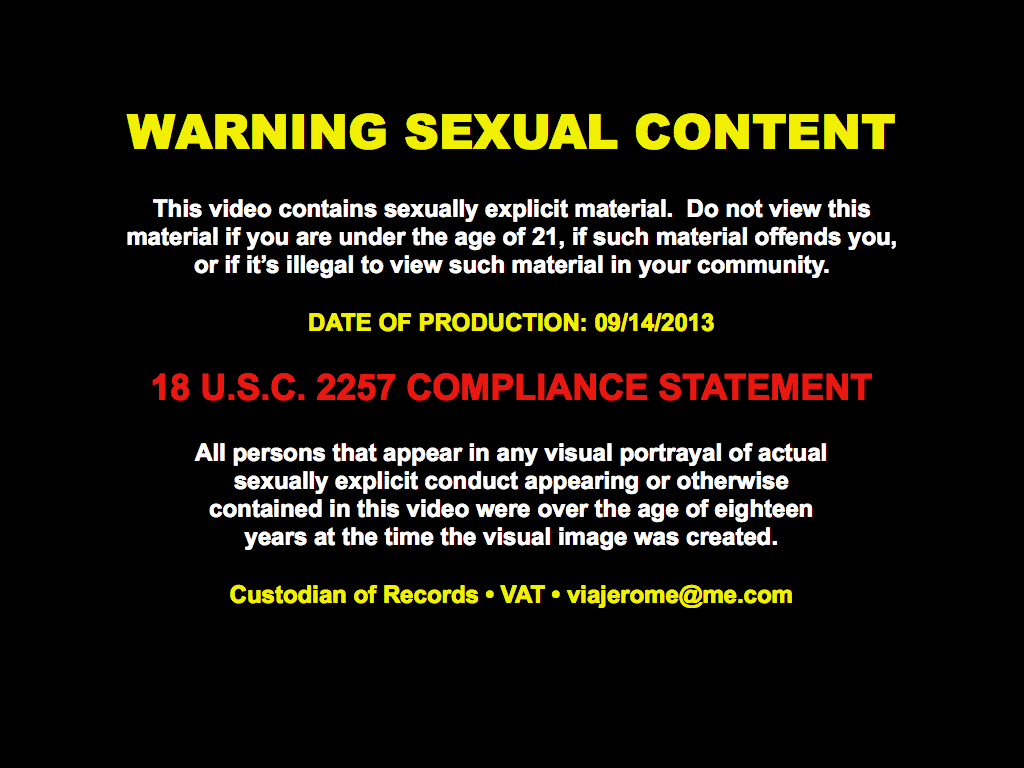 You Love Your Lover, Don't You?
WOULDN'T YOU LIKE TO EXPERIENCE THE PASSION AND LUST YOU FEEL FOR YOUR LOVER OVER AND OVER AGAIN?

Have you ever wished someone would film the intense eroticism, the overtly sensual and climatic "romance," the actual "love" you share with your lover (your husband, your wife, your significant lover)? Wouldn't you like to have an actual "video memory" that captured the physical and erotic manifestation of the love you have for each other?

THE PERFECT GIFT FOR YOUR HONEYMOON!

We don't shoot pornography. We film the art and beauty of love-making shared between two people - and only two people. We film romance, not sex. Get it?

Unlike those amateur home videos shot with only one camera, we use three to five cameras, a switcher, and a sound board. Plus, to personalize your "exclusive" video, we include on-screen graphics, photos, your favorite music, and animation featuring your own narratives (poetry, song lyrics, letters, etc.) written by you and/or your lover. Plus, when we film, we give you your privacy - there are no video or sound technicians in the room with you!
In fact, when it comes to privacy, we can't even show you previews of our work on this web site, because doing so would be a violation of the confidentiality clause (i.e., non-disclosure agreement or NDA) in our service contracts. Besides, the passion and eroticism you and your lover share cannot be previewed or captured in someone else's video - it can only be captured in your video!

We shoot lovemaking!


Most importantly, our service is ONLY for your exclusive "home use," and by contract, you cannot derive any commercial use from the finished product, nor can we derive any commercial use from the finished product. This is personal, this is private, and it's not for the internet, television, or anyplace else. This is for YOU and YOUR LOVER. This "video memory" is the "ideal" honeymoon, anniversary, or birthday present for your lover. This is the "ideal" turn-on for you and your lover to watch over and over, together, forever!

THE PERFECT GIFT FOR VALENTINE'S DAY!

Again, we don't shoot pornography. This is very classy work. We shoot on-site at a location of your choice - anywhere (plus fees and expenses), including upscale luxury locations in a safe areas. No experience is required, because this is NOT a modeling event. We produce a highly erotic, sexually explicit, but overtly romantic video capturing the love, the passion, and the eroticism you hold for each other.

THE PERFECT GIFT FOR YOUR ANNIVERSARY!

You'll work with a friendly, in-love heterosexual couple, who respect the beauty of love-making, and who want you to have the most enjoyable experience making love with your lover.

The female body is beautiful! The male body is beautiful! Think about all the erotic things . . . the intense passion you'd like share with your beautiful lover! Smile, lick your lips, and then . . .

CONTACT US NOW at: withyourlover@tripoetry.com